Stay Connected
It can be difficult to keep up with everything going on at Your Options, especially for our donors and volunteers who aren't at our centers on a daily basis. Fortunately, we make it easy for you, with multiple ways to stay up to date.
Email
To be added to our email distribution list, simply text the letters YOM to 22828. We do not sell or trade your email information and we limit emails to one per month unless there is a special event/occasion. It is important add us to your address book so our e-newsletters go to your inbox and not your junk folder.
Blog
Our blog allows for us to periodically publish a post for a particularly important topic and share it on our website. So whether that's an update about Your Options itself, or something in the news of particular interest to our mission, the blog is an excellent resource to keep up with everything going on.
Giving Match
This summer, a generous donor has offered to match all donations made between June 17th – August 17th up to $15,000! Make a gift today and it will be matched 100% until we hit that $15,000! Thank you in advance for all of your support!
Read the Full Letter Here: Help a mother choose life this summer
Newsletters
Our newsletter mailings are a great way to stay connected on some of the latest news from Your Options Medical. If you would like to receive our newsletter by mail, contact us today. In your message, be sure to send us your mailing address to begin receiving newsletters from Your Options Medical. We typically send two newsletters annually.
Spring 2019 Newsletter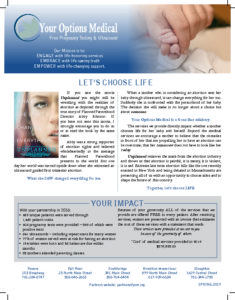 Year-End 2018 Newsletter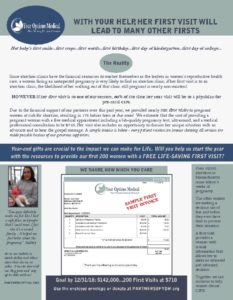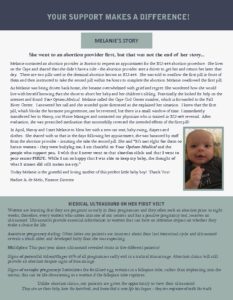 Receive Mailings