Baby Bottle Fundraiser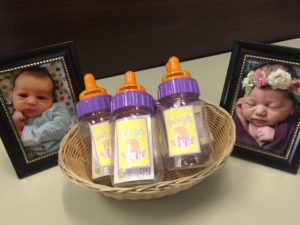 Fundraising through a Baby Bottle Campaign is as easy as 1, 2, 3!
Churches / Schools receive baby bottles to be filled by individuals with change, cash or checks.
The church distributes the bottles to be filled by individuals with change, cash or checks.
The staff member from Your Options Medical picks up the collected baby bottles to be processed.
It's that simple! If your organization is looking for a way to support our ministry and those we reach out to, this is a wonderful way for your church to get involved! The January campaign for Sanctity of Human Life is coming to a close. Our next campaign will be in May running from Mother's Day – Father's Day. However, we also do campaigns with churches any time of the year! Without you and your generous hearts, we would not be where we are today! Thank you!
Upcoming Campaigns

March – Lent is a season meant for fasting and prayer in preparation for Easter. A time to focus on the sacrifice of Jesus in willingly laying down His life for us to offer us His free gift of Salvation that we may have eternal life. A time to celebrate the life we have been given. By participating in the Lent campaign, you can celebrate the hope of eternal life and the lives of the unborn.
May-June – This campaign runs from Mother's Day to Father's Day. What better way to celebrate parenthood than to support a life-affirming ministry like Your Options Medical?
Additional campaigns are available throughout the year including Respect Life in October.
To learn more about Baby Bottle Campaigns, contact Georgi at 508-646-2665.