Donate
***$15,000 MATCHING GRANT***
A group of generous supporters has offered to match ALL gifts made between June 17th 2019 and August 17th 2019. All donations will be MATCHED up to $15,000!
Our centers are needed now more than ever!
-Recently, 21 women who were scheduled to have an abortion changed their minds.
-The number of women being served in Fall River has DOUBLED requiring a third ultrasound day.
-Revere and Southbridge have seen an increase in the number of appointments.
and so much more! We need your help, please give today! Thank you for helping to change and save lives!
Our Commitment to Our Donors
We will not sell or trade our donors' names or personal information with any other entity. This policy applies to all information received by A Woman's Concern, dba Your Options Medical, both online and offline, as well as any electronic, written, or oral communications. To the extent any donations are processed through a third-party service provider, our donors' information will only be used for purposes necessary to process the donation and provide appropriate follow-up.
*One-time Donations are only available to be given by Credit Card or Debit Card.
If you prefer to donate by check, please make checks payable to A Woman's Concern or Your Options Medical mail to: Your Options Medical, 103 Broadway, Revere 02151
Federal Tax ID 22-3196616 Donations are tax deductible under IRS 501(c)3 regulations, please consult your tax advisor
Other Ways to Support Us
Choose Life License Plates Campaign
If you reside in Massachusetts, please get your Choose Life license plate today. A portion of the funds from vehicle registrations are sent to Choose Life Massachusetts and disbursed as grants to life-affirming pregnancy centers, like Your Options Medical, in Massachusetts.To learn more, please visit www.chooselifemassachusetts.com to learn how to purchase your plate.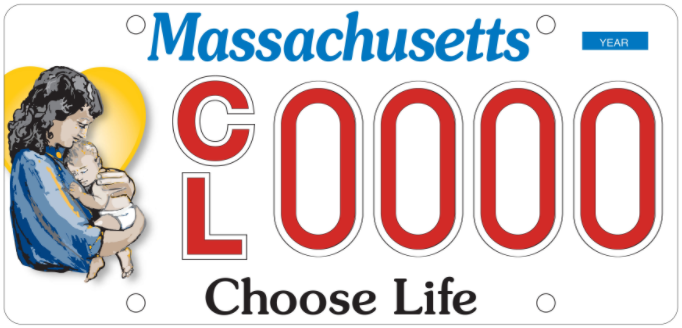 Matching Gifts
Does your employer match gifts made to 501(c)3 organizations?
Amazon Smile
If you shop on Amazon, log into your account through https://smile.amazon.com and select A Woman's Concern in Revere, MA as the charitable organization. All purchases must be processed through the Amazon Smile link for AWC to receive donations from your purchases.