$15,000 Summer Matching Grant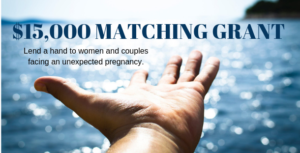 Help a mother choose life this summer through a special MATCHING GIFT OPPORTUNITY
****UPDATE FROM JULY 17TH 2019****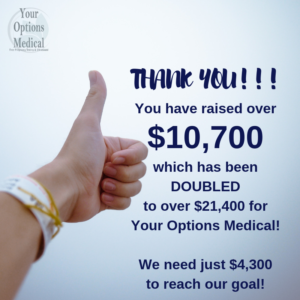 Your Options Medical operates four life-affirming pregnancy centers that are medically licensed and able to provide ultrasounds to mothers contemplating abortion. Ultrasound confirms what the pro-life movement has always known: A pregnant woman is carrying a human life.
States all across the country are boldly declaring that LIFE begins at conception and are signing into law protections for the unborn. While this is exciting and encouraging news, here in Massachusetts laws are currently being debated that will put our state in the camp of the abortion extremists like New York.
Our centers are needed now more than ever.
Here's OUR exciting news:
Twenty-one woman who were scheduled to have an abortion changed their minds just in the past few months.
The number of women we served in Fall River during the same period of time from 2018 to 2019 has nearly doubled! A third ultrasound day will soon be needed.
Revere and Southbridge saw an increase in the number of appointments.
The mobile clinic expanded service to the Brockton/Stoughton area.
We received 6 requests for our mobile clinic to participate in health fairs in Boston.
An opportunity for the mobile clinic in South Boston has been presented to us.
We have a busy summer ahead of us!
In order for us to add another ultrasound day in Fall River, say YES to the health fairs and YES to the South Boston location, we need your help. A generous group of donors have already said YES and pledged to MATCH any gift made between June 17th and August 17th up to $15,000.
Will you say YES so:
Another ultrasound day can be added.
The mobile clinic can be at the health fairs.
The South Boston location can become a reality.
More mothers will have the opportunity to see their babies and choose life.
Thank-you for standing in the Gap for Life,
Teresa Larkin, Executive Director
Life begins at conception and all life is a precious gift from God. Ultrasound is the instrument through which the Truth about the preborn can be seen by their mothers and fathers.